As a moving company owner, your first order of business is to generate a steady stream of leads ready to become your customers.
There are many marketing tactics and strategies to choose from and help you get started. But the real problem is developing and implementing the right one for your moving company. Considering your limited resources, it's best to stick with one that'll help you attract highly qualified leads without breaking the bank.
Given these factors, search engine optimization (SEO) may be the best strategy for your moving company. It can help you build a well-reputed and visible online brand your target audience will run to for their moving needs.
This guide explains why you should go with SEO for your moving business. It also details the step-by-step process to ensure you optimise your website correctly, resulting in more website traffic and conversions.
What is Search Engine Optimization?
SEO is a digital marketing practice aimed at enhancing the visibility and positioning of websites in organic search results.
Through the years, Google has been the go-to source for information among online users. Visited by approximately 89.3 billion monthly visitors and with 8.5 million daily searches conducted, you'd be a fool not to consider this search engine as a channel where you can market your website.
But, unlike most marketing channels, promoting your online business on Google is different. Instead of paying the platform to show your business on search engine result pages (SERPs), you have to perform techniques to encourage the search engine to rank your website on SERPs.
Developing and implementing a strategy based on these tactics can be time-consuming and requires an expert hand. But if done correctly, you can enjoy hundreds and thousands of highly qualified monthly visitors for a prolonged period.
For starters, the top-ranking page that appears on SERPs receives 39.27% of monthly clicks, according to Advanced Web Ranking. It is followed by 14.64% and 9.62% of clicks for the second and third places, respectively.
Using this data, suppose your site ranks for a keyword 10,000 people search every month. That means your site gets approximately 3,927 clicks monthly for this search query.
Now, imagine your website ranks for multiple keywords with the same amount of monthly searches. That means ten and thousands of people can view your website from Google alone!
Such is the power of SEO when done right. And that is something that businesses need to increase their online visibility and reach out to their target audience effectively.
Why Do Moving Companies Need SEO?
For moving companies, a strong online presence is a must to stay competitive in the market.
Aside from the volume of search engine users, another reason that makes SEO a perfect fit in their marketing plan is its ability to secure long-term growth.
By optimizing their website and content, they can ensure that their business ranks well in search engine results pages, making it easier for high-quality leads to find them.
Also, once you start ranking on Google, it'll take a lot before you drop out of search results.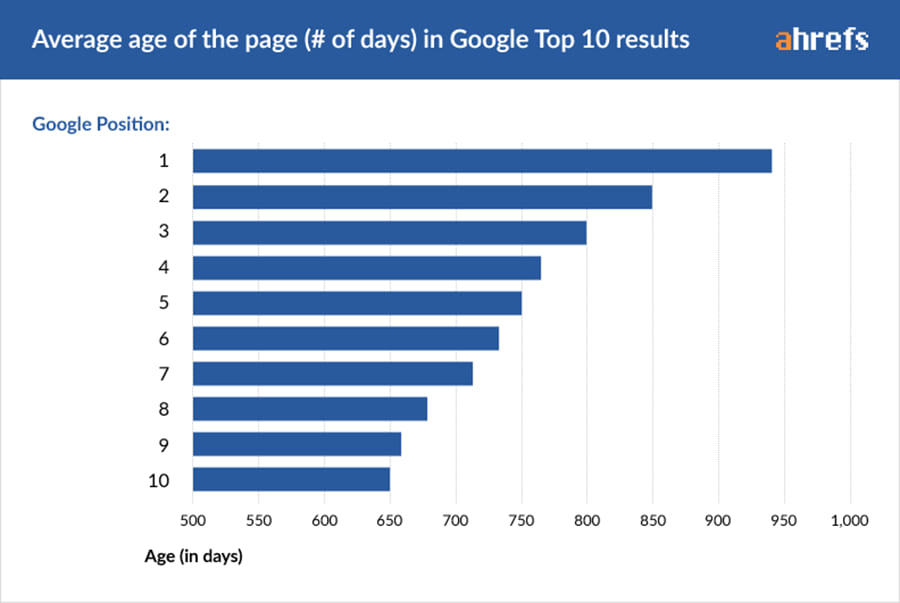 Granted, assuming you have observed the best moving company SEO practices, it takes at least a year before your site can appear on Google rankings.
However, it takes a lot before your site drops from its search position. This means you can generate a steady stream of organic traffic for years. Plus, you can move up the ranks if you continue launching new SEO campaigns!
Just as important, SEO helps you create a positive user experience. It provides prospects with the most convenient way to sign up for your services. As you'll see later, how you set your website up plays a critical role in getting your site to appear on SERPs and converting visitors into customers.
SEO for Moving Companies: 10 Tips
This section discusses ten essential tips to help moving companies improve their search engine optimization (SEO) efforts. Following these guidelines, your moving company can formulate an SEO strategy to help your website rank higher in SERPs and increase your online visibility.
Conduct Keyword Research
The first step to a successful moving company SEO is finding the best keywords to rank your moving company website for. Use keyword research tools like Google Keyword Planner, Ahrefs Keyword Explorer, or KWFinder to identify the most relevant keywords for your moving business.
Before conducting your research, however, you need to identify where you want to extract keyword information. We're referring here to states or cities that your services cater to.
This allows you to rank on SERPs in those locations so more of your target audience can see you.
Next, find keywords with lots of search volume and low keyword difficulty.
Optimizing your website for these search terms lets you quickly shoot up the top of SERPs and gather as many clicks as possible.
The keywords that fit these qualifications are long-tail keywords composed of at least four words. While they don't have as much search volume as head terms, they are more specific and have a clear intent.
You can quickly identify the type of people who will search for the keyword, and if they are people looking for services like long-distance moving or anything else you're offering, you should add them to your list.
Most long-tail keywords appear in the form of a question. Target these keywords throughout your website content to increase your visibility in search results.
Research Your Competitors
Search how your competitors are doing to help you gather more ideas for developing your SEO strategy. This allows you to find the baseline for optimizing your website.
You should have a general idea of who the top moving companies in your area are. But to help expand the list, use the same SEO tools above to find less popular competitors.
The tools determine this by finding websites that rank for keywords your search is also ranking for.
From here, find sites with the most share % and check their best keywords. You can find low-hanging fruit keywords here that you can create content for and outrank on SERPs.
Or you can dig deeper into other SEO metrics for additional ideas. We will get into these metrics and tactics as we progress into this article.
Optimize Money Pages for Your Keywords
Now, you have all the information you need to optimize your website using the best and appropriate target keywords and measure up against competitors.
To do this, you must observe the best on-page SEO tactics. The goal is to mention your keywords in the most vital page elements: the SEO title, H1, and URL.
How you can edit these elements depends on the content management system (CMS) you're using for your site. But for WordPress users, you can replace the H1 and URL on the page editor when you create a new page or edit an old one.
For the SEO title, you can use a plugin like Yoast SEO and enter your title here infused with your target keyword.
While the H1 and SEO title can be the same, remember that the latter appears on SERPs and can influence users to click on your page instead of the others that appear higher on you. So, it's best to make your SEO titles more click-worthy while the H1 describes what your content is about.
Focus on optimizing the most important pages of your website, such as service pages or location-based pages, for your targeted keywords.
Aside from the three elements above, mention your keywords in your meta descriptions, subheaders (H2, H3, etc.), and content to improve the search rankings of your pages over time.
Launch a Blogging Strategy
Publishing blog content keeps your website updated with fresh, informative content that attracts new and returning visitors.
The keyword here is "informative." Ensure that the content provides value to users by answering the question posed by the keywords you're optimizing for each. This helps your moving company SEO efforts and demonstrates your expertise in the field.
Using the long-tail keywords you researched earlier, create a content calendar that enables you to publish website content regularly.
The goal is to increase your content velocity by producing content on a consistent and predictable schedule. This helps inform Google to re-crawl your site at these times so your latest posts get indexed sooner.
As mentioned, make sure you optimize the articles for your target keywords. Use Yoast SEO to help you determine how you use your keywords properly in your content to increase its chances of ranking on Google.
Make Your Website Load Faster
A moving company website that loads slowly can negatively impact the user experience. A study shows that more than 20% leave your website if it's still loading after four seconds.
More importantly, page speed is a ranking factor. The slower your site loads, the more significant harm it causes to your search engine rankings
To see how fast your website loads, use Google PageSpeed Insights, which breaks down how efficiently it loads based on various factors such as Core Web Vitals.
Scroll below the results page to see opportunities and suggestions for improving your score and loading the page faster.
You can also check your Google Search Console to see which pages on your site did not have passing Core Web Vitals scores.
Most of the fixes to improve loading speed require help from a professional developer. But moving company owners running a WordPress site can install a caching plugin like WP Rocket to implement the suggestions provided by Google PageSpeed Insights.
Set Up Your Google Business Profile
Local businesses can generate more traffic by ranking on the Google Map Pack, which features three businesses relevant to the user's local search query.
They can click "More Places" to see more companies similar to the ones that appear here. But as a moving company, you want to be one of the three businesses on the Map Pack to maximize your visibility and traffic.
To do this, you must sign up for a Google Business Profile. Doing so lets you claim your business (if it's already appearing on Google Maps) or create a new one.
Keep your profile up-to-date with accurate contact information, hours of operation, and attractive photos of your business.
Collect Customer Reviews
You want customers to leave their reviews about your services online. Ideally, you must get positive customer reviews as they contribute to your SEO efforts and improve your online reputation.
In most cases, however, customers won't write the review independently. It would be best to encourage them to share their experience with your business. You can do this by sending them an email after servicing them. This lets them recount their experience while it's still fresh in their minds.
Getting them to write their reviews on Google is good so that you can manage them in a single location. But you should be open to receiving reviews from other sites like Yelp, Angi, and others.
If this is the case, compile the reviews from various sources using a tool like Podium. This helps your prospects to see what all your customers think of your moving services and feature the best reviews to help convince them to hire you.
Build and Clean Up Citations
You must enter your NAP (name, address, and phone number) when filling out your Google Business Profile.
Whatever NAP you entered on your GBP must also reflect on other business listings moving forward.
Ensuring NAP consistency across these profiles helps search engines trust your business, resulting in improved search rankings.
For starters, you need to clean up your NAP citation. Check business listings and see if you have an existing profile there with an outdated NAP. You can use the Moz Local Listing Score to get insights on your existing local online presence and start working from here.
After updating them, consider creating new citations to help solidify your local SEO efforts. At this point, it's best to hire citation builders to find and list your website on relevant niche online directories.
Build Authoritative Backlinks
Backlinks from authoritative websites, arguably the most important ranking factor, can significantly improve your SEO.
The idea here is to reach out to website owners and ask for a link to your site from one of their existing pages.
However, most website owners won't agree to this unless they receive something of value. In this case, you can propose to create a post for them with a link to your site that will be published on their website (also known as guest posting).
Securing links, however, is difficult no matter how hard you try or even if you observe the best industry practices. That's why some people resort to other means of acquiring backlinks, knowing that it'll help their search rankings.
If you plan on doing so, it could break your SEO performance and rankings simultaneously, especially if you're not careful.
They can make the mistake of acquiring links from what you think are authoritative sites only to get your website penalized on Google search, dropping your search rankings and traffic in the process.
Also, since high-quality links are expensive, you may be tempted to hire "affordable" link builders. But it's also due to their cheap services that they get low-quality links, which could ruin your site's SEO.
In this case, hiring someone trustworthy and well-reputed to build links for your moving company is best.
Monitor Results
Once your SEO campaign is up and running, you must ensure that everything goes as smoothly as possible.
To do this, you can check Google Search Console to view your site's performance. It shows you how many impressions and clicks from SERPs are on your site pages.
You can also view a graph visually representing your site or page's performance according to both metrics.
The goal is for your landing pages to generate the most views so you can scale your business more effectively based on how many organic visitors convert into customers.
Rank tracking tools also help you monitor where your page ranks for your target keywords. They help you get granular in your SEO monitoring so you can make the necessary changes to your campaign on the fly (if the results are alarming or drastic) or after it concludes.
Should I Hire an SEO Company or Do It Myself?
Deciding whether to hire an SEO company or handle SEO for your moving company can be challenging. Both options have pros and cons, which should be carefully considered before making a choice.
DIY SEO
Handling SEO on your own can help you save up on resources, allowing you to allocate them elsewhere in your business. Also, learning and implementing SEO on your website provides you with valuable skills for the future. You can apply the same strategies to your other companies if necessary!
While SEO can be daunting, the tools mentioned above can make your job much easier. They help track your website's performance so you can focus on making the necessary changes.
However, DIY SEO can be time-consuming; without expertise, you may not achieve your desired results. Worse, your strategies could potentially harm your website's rankings, which is the last thing you want to happen.
Hiring an SEO Company
On the other hand, an SEO agency can save you time and offer professional expertise, leading to better results.
Its team of experts will develop a comprehensive strategy tailored to your moving company's needs and optimize your online presence. SEO companies have experience with various industries and techniques, which may lead to bigger and better results.
Nevertheless, costs can differ depending on the company and the project's scope. It would be best to account for expenses ranging from a couple of thousand dollars to tens of thousands.
Evaluating your goals, available resources, and willingness to learn new skills is crucial in making an informed decision. Consider your moving company's specific needs and weigh the pros and cons to decide whether to do SEO yourself or hire an SEO company.
Frequently Asked Questions
How long does it take to see results from SEO for my moving company?
There is no specific timeframe for seeing results from SEO, as it varies depending on factors, i.e., competition, website quality, the effectiveness of the applied SEO strategies, etc. However, SEO is a long-term investment and typically takes a few months—if not years—to see noticeable improvements in rankings and traffic.
What are the most critical factors for ranking well in search engines?
There are three main factors to consider when optimizing your moving company's website for search engines:
Content – High-quality, informative, engaging content relevant to your target audience and optimized with the right keywords.

Technical aspects – Your website must be crawlable and indexable, both of which can be achieved via fast loading speed, good site structure, and clean code.

Backlinks – Earning high-quality backlinks from reputable and relevant websites to increase your site's authority and trustworthiness in the eyes of search engines.
How can I optimize my website for mobile devices?
Optimizing your moving company's website for mobile devices is crucial for user experience and search engine ranking as mobile traffic grows exponentially. To optimize your website for mobile devices, follow these guidelines:
Use a responsive web design that automatically adjusts to fit the device's screen size.

Ensure your site has a fast loading speed on mobile devices by compressing images, minimizing CSS and JavaScript files, and enabling browser caching.

Ensure clickable elements like buttons and links are large enough and spaced apart for ease of use on smaller screens.

Test your website's performance on various mobile devices using tools like Google's Mobile-Friendly Test.
How often should I update my website's content for SEO purposes?
Regularly updating your website's content ensures that your moving company stays relevant in search engine results and provides valuable information to your visitors.
While there's no hard-and-fast rule for updating frequency, reviewing and updating your content at least every few months is generally a good idea.
This could involve adding new blog posts, editing existing pages with new information, or freshening up the layout and design of your website.
Let Mover Search Marketing Move Your Search Rankings for You!
If you're intimidated by improving your moving company SEO can be daunting, enlisting someone's help is your best course of action.
In this case, our team of experts at Mover Search Marketing understands the unique challenges moving companies face in internet marketing.
We specialize in building targeted SEO services tailored to moving companies. Every strategy we employ will contribute to getting your company in front of the right audience: potential clients searching for your business.
If you're ready to take your moving company's SEO to the next level, reach out to us and we'll reply ASAP.