Do you have a Yelp Business Page that is ignored by your target audience while your competitors get tons of customers from their business listings?
The harsh reality is that they're doing something that you aren't. At this point, figure out what those are and take action. This way, you can benefit from one of the most popular online directories and grow your business.
At the same time, it's not as easy as it seems. You may not have the time to commit to managing your Yelp page or the knowledge to execute its best practices.
This is where Yelp Advertising Partners come in handy. This article explains what they are and can do for your business to generate more leads and customers from the platform.
What Are Yelp Advertising Partners?
Yelp Advertising Partners are digital marketing firms and advertising agencies that manage and optimize ads campaigns of business listings through the Yelp Advertising Partner Program.
Partners offer increased campaign management services, from account planning and proposals to reporting and performance evaluation. They can also enjoy exclusive support, resources, and incentives from a dedicated Yelp team.
Key Benefits of Yelp Advertising Partners
The Yelp platform offers business listings ranging from plumbers to restaurants and everything in between.
Its popularity, with millions of monthly visitors, makes it an even more lucrative channel for business owners to feature their businesses.
However, generating leads and customers from Yelp can be challenging, especially if other small business owners promote their services on the platform.
So, aside from observing the best Yelp practices, you have to compete with similar businesses for the attention of your target audience. This makes the task of converting people into customers much more difficult.
However, Yelp Advertising Partners have access to increased campaign management, from account planning and proposals to reporting and performance evaluation.
Also, Yelp Advertising Partners provide exclusive pricing and discounts to help you reach a wider audience while saving money.
Should you enlist their help, you can enjoy tailored ad campaigns specific to your needs and target audience—something you won't achieve alone.
How The Yelp Advertising Partner Program Works
Below are ways how Yelp Advertising Partners can do the above for you:
Getting Started
Agencies join the Yelp Advertising Partners Program by filling out the contact form on the official partners page. From here, the agency needs to meet the program requirements outlined by Yelp.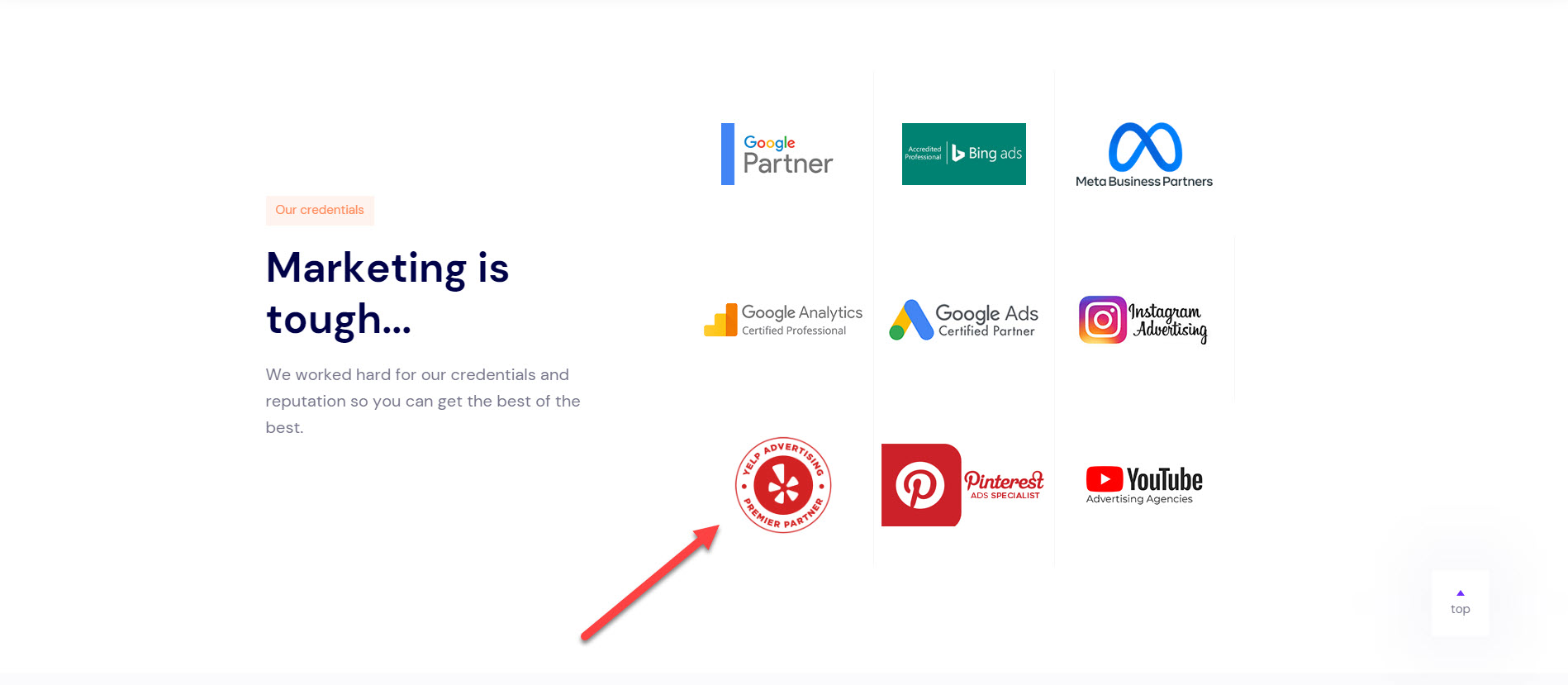 Once approved, they can use the "Yelp Advertising Partner" or "Yelp Advertising Premier Partner" logos, as appropriate, according to the Yelp Brand Center.
More importantly, they can unlock exclusive resources that help drive results for their clients and earn commissions.
Setting Up Your Campaign
Once the partner gets you on board, it will create a streamlined campaign management experience for you.

But first, you must sign up for Yelp's Business Page profile if you don't have one yet. With it, you can add your basic business details, showcase photos and customer reviews, interact with new and old customers, and more.
However, just because your profile is up and running doesn't mean customers will come to your business. You need to diligently work on promoting your profile, something that agile Yelp Advertising Partners know a thing or two about!
Below are services they offer to help supercharge local businesses:
Business Page Upgrade Package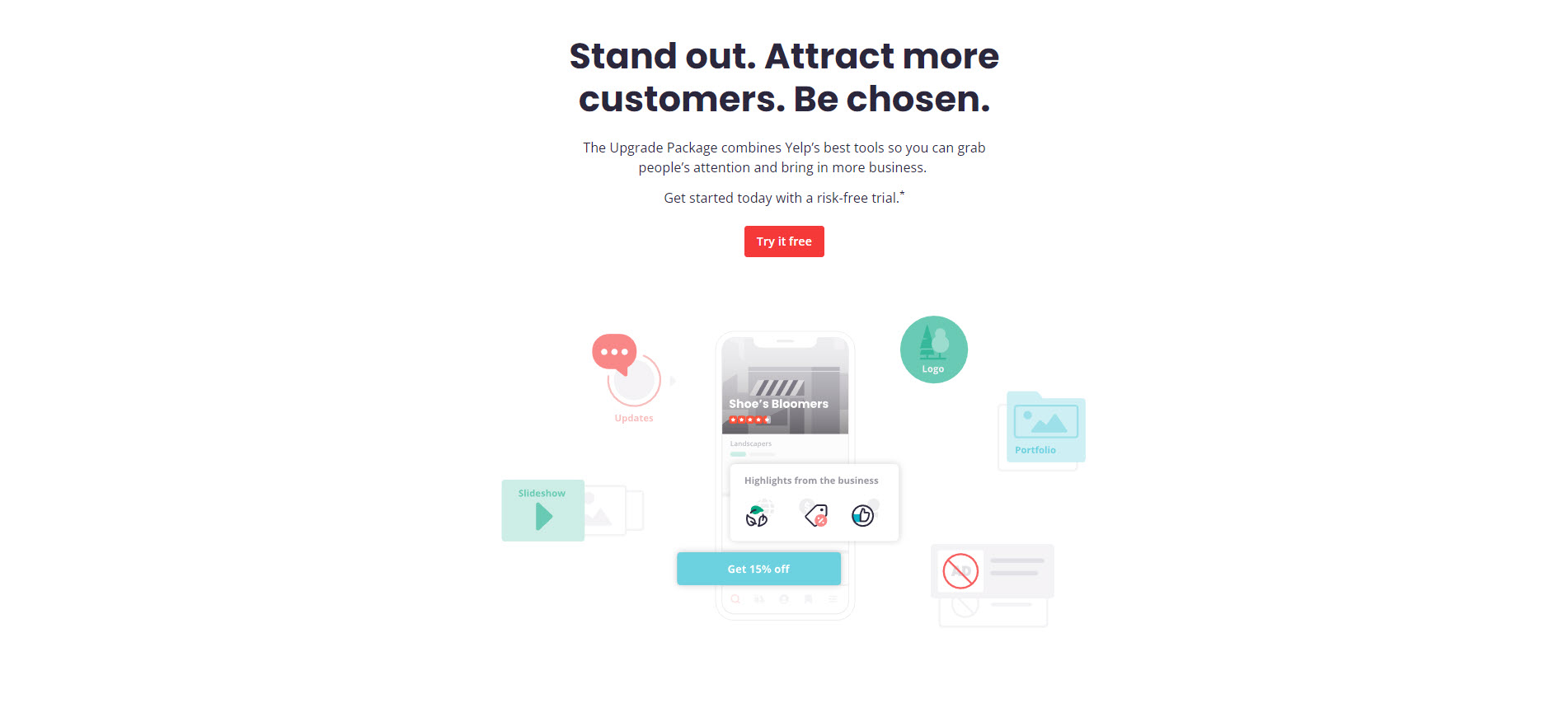 Partners offer an upgrade package to help enhance your Business Page. This package contains features guaranteed to improve the Yelp profile of every business owner.
For one, the package prevents competitors from appearing on your Business Page. That means Yelp visitors can focus on what your business offers instead of being distracted by offers from other brands.
Also, the Portfolio2 and Slideshow features put your best foot forward by showing images and videos of what your business can do.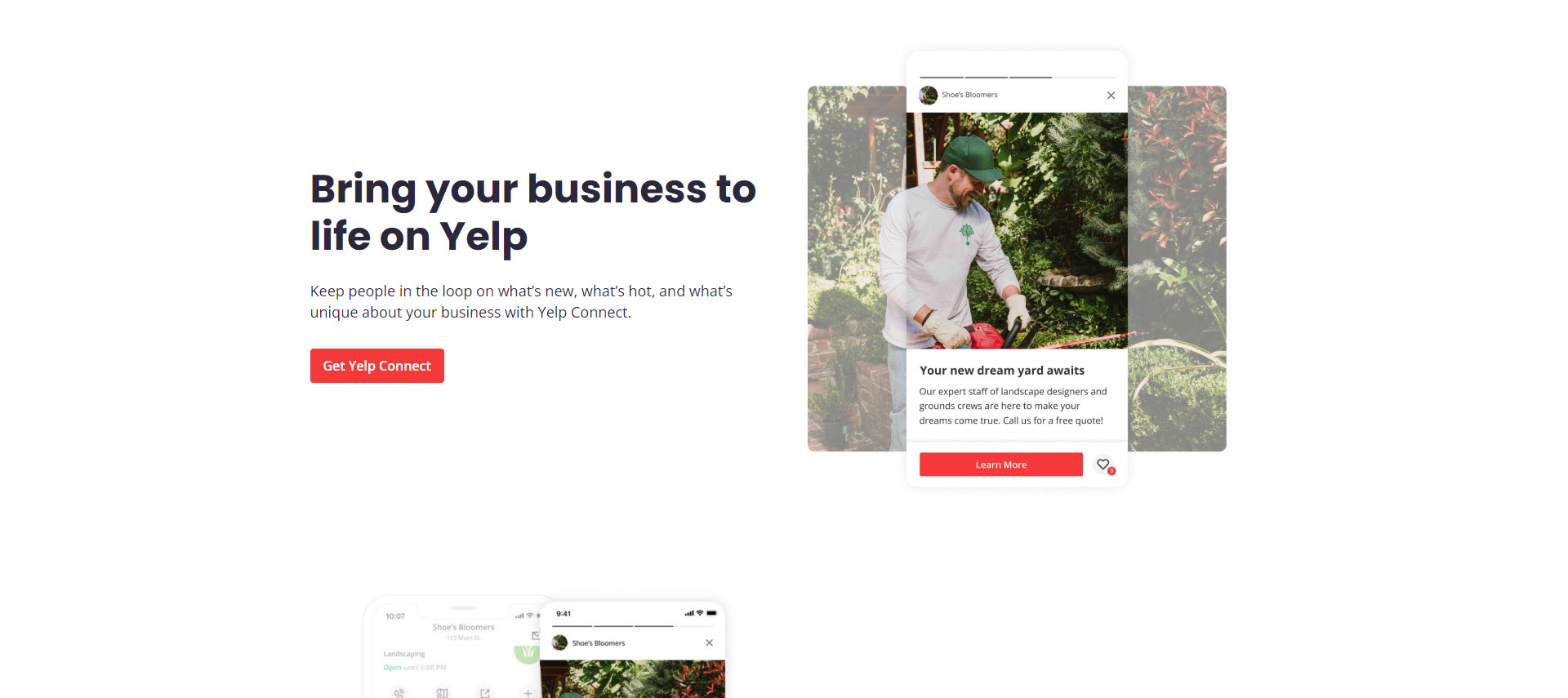 Finally, Yelp Connect is part of the upgrade package that lets you share posts about your business on the platform.
Unlike social media, where your posts appear on your followers' feeds, Yelp promotes your posts to Yelp app users and email subscribers.
This ensures more of your target audience (most of whom may not be your followers yet) learn more about your services.
Yelp Ads

Yelp Ads is a paid advertising platform that allows businesses to promote their products and services on Yelp.
Signing up for Yelp ads costs $150/month. You can use the amount to spend on keywords you want to bid for to appear on the platform. Costs can go higher if you wish to bid for more expensive search queries and launch more campaigns.
Like Google and Facebook Ads, Businesses can create and manage custom headlines, descriptions, and photos to be included in their ads.
But before making your Yelps ads appear at the top of search results pages and on competitor business pages, you can set conditions where you want your Yelp Ads to show.
Factors like location, search history, and business category help you target customers interested in the business's products or services.
Once published, you only have to pay when a customer clicks on your ad. If your ad doesn't get clicks, you can use the credits from your previous campaign again.
Monitoring Results
Yelp Advertising Partners inform you regarding your campaign's progress.
Using Yelp Analytics, they have an on-demand reporting ability to monitor various campaign metrics. This includes clicks, impressions, customer engagement, and more.
Using the gathered data helps partners keep track of campaign performance and adjust strategies accordingly, making optimizing business campaigns possible to achieve better results and growth for your business.
Choosing the Right Yelp Advertising Partner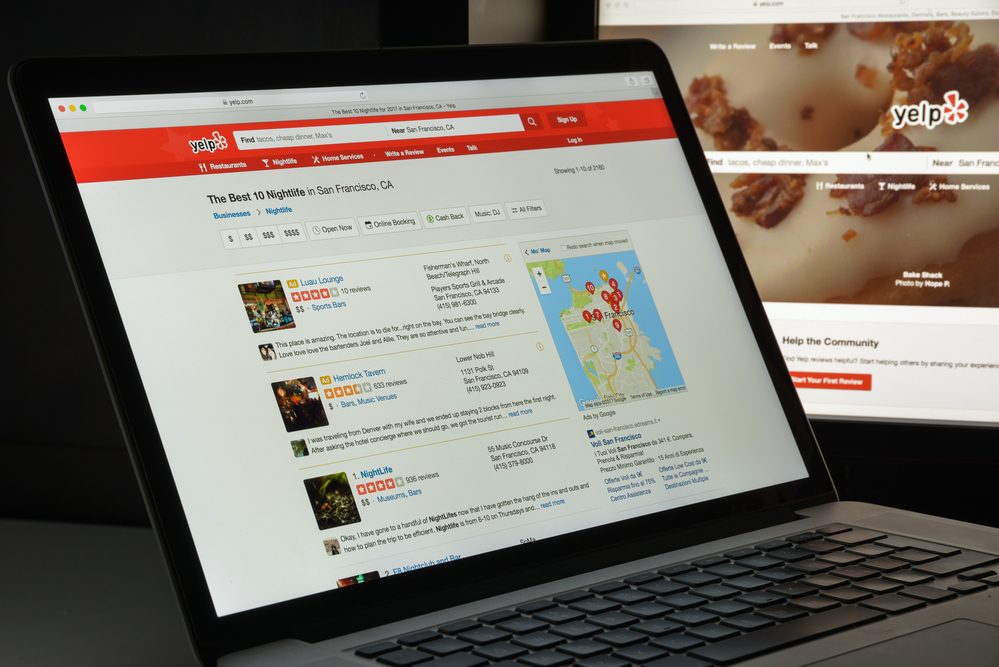 If you're sold on hiring a partner for your Yelp efforts, the next step is choosing Yelp Advertising Partners that can help get the job done.
Below are ways to ensure that you enlist the help of a form or agency that will take your Yelp marketing to the next level:
Experience and Reputation
When evaluating potential partners, look for those with a proven track record of success.
Research their experience working with businesses like yours and read reviews from their previous clients on sites like Glassdoor, Clutch, and others.
Customer Support and Communication
The partner you're eyeing must communicate effectively and exercises transparency with all its clients. This includes discussing how they will share progress reports and performance evaluations and their responsiveness to your questions and concerns.
Additionally, consider their level of commitment to customer support, which should include technical assistance, account management, and ensuring that your clients understand how their reviews are managed on Yelp.
Ad Strategies and Approach
From the call you'll have with partners, you will know how well they understand your business, their approach to lead generation, and their overall advertising strategies.
Look for a partner that emphasizes data-driven tactics and continuously tracks, analyzes, and optimizes your ad campaigns to achieve maximum results.
Pros and Cons of Yelp Advertising Partner
Working with a Yelp Advertising Partner can benefit businesses that want to maximize their advertising efforts on the platform.
However, weighing the pros and cons is important in helping you decide whether hiring a partner fits your business's needs and budget.
Below are a few you must consider:
Pros
Expertise – Advertising Partners have expertise in creating and managing successful advertising campaigns on Yelp, which can help businesses achieve better results.
Time-saving – Instead of managing your Yelp Business Page by yourself, your partner will do everything for you and then some. This way, you can use the additional time and resources to focus on your other business aspects.
Exclusive support – You usually work with the Yelp Sales Team, which already has its hands full with other clients when launching your campaigns. But you won't have this issue with Advertising Partners, as they provide exclusive support, resources, and incentives to manage and optimize your ads campaigns properly.
Cons
Cost – Advertising Partners typically charge a fee for their services, which can add to the overall cost of advertising on Yelp. Then again, that's the price you pay for getting professional help with your ad campaign on the platform.
Lack of control – Businesses may have less control over the advertising process when working with an Advertising Partner, which can be a concern for some. Holding a call with your partner and stating your goals with Yelp should help quell this issue.
Quality of service – An Advertising Partner's service can vary, so businesses need to research and choose a reputable partner. However, you shouldn't have this problem if you follow the steps to choose the right partner.
Conclusion
Getting the most out of your business means doing whatever it takes to attract more customers. Part of it is getting help from a Yelp Advertising Partner that will manage Yelp Ads and your Business Page for you.
Following the tips above should give you a good idea of how to choose the best partner for your business and what to expect from working with one.
If you're in the mover industry, you can count on us at Mover Search Marketing to take your business to greater heights on Yelp. We are one of the leading agency partners specializing in increasing the visibility of moving companies on the platform.
If you need more information on how we can help improve your Yelp Business Page's performance, reach out to us. We'll get back to you in 24-48 hours.